Tips & Tricks For Blaczko Tenants (eng)
*polski poniżey*
We, the Blaczko Tenants'-Initiative, would like to share some helpful information that we've researched over the past few months. We're not legal advisors; we're renters just like you. By taking action together, we have the chance to develop new ways to enforce our common interests. That starts with knowing our rights and supporting each other!
Contact:
Reach us at any time at for more information or exchange at
ini.blaczko@gmail.com or blaczko@mg-berlin.org
Up-to-date info: www.twitter.com/mg_berlin
Cameras
Issue of Concern:
No cameras may be installed inside or outside of a residential property. a without the express consent of ALL tenants living there. However, we have verifiable evidence the "landlord" Blaczko installed cameras to illegally collect video and use this data against us tenants.
Remedy:
Protect our privacy. Report Blaczko's illegal spying on tenants to the data protection office. Easily fill out an anonymous form online with the official Data Protection Office:
https://kontakt.datenschutz-berlin.de/
2. Temporary and/or Overpriced Subleases
Issue of Concern:
As with a regular lease agreement, the time-limits on subleases are only possible under the following 3 conditions:
1) planned demolition of the house
2) fundamental renovation or
3) plans for personal need / self-use
The reason for the time-limit must be stated in the (sub)lease agreement, otherwise, a term of the contract is generally considered to be indefinite. Additionally, the price of the sublease must also comply with the local rent index, just as with any rental contract. We are aware that there are numerous subleases that are unlawfully limited in time, and up to 50% above the rent level in residential properties currently mismanaged by Blaczko. Some of these contracts even list employees of the Blaczko Company (Roman Lubert) and their family members (Lara Blaczko) as main tenants on these fake and illegal sub contract agreements.
Remedy:
Don't overpay rent! Easily check if your rent requested by Blaczko exceeds the legal rent index by using this simple calculator provided by the Senate:
https://www.stadtentwicklung.berlin.de/wohnen/mietspiegel/.
If your rent is too high, you have the right to write a letter of complaint to reduce your rent or you can seek assistance from the tenants' association or other legal representation to get your rent due set to the LEGAL limit.
3. Partial-Commercial Lease Contracts
Issue of Concern:
Partial commercial leases are drawn up by landlords as a tactic to get around the legally allowed rental price regulations ("Mietpreisbremse"). By stating a "commercial" (Gewerbe) portion of the space that is larger than the residential, they hope to be able to charge residents more than they are legally allowed for residential space.
Treating residential space as commercial space is, however, legally very objectionable and may be challenged by a renter, even if you've already signed a semi-commercial lease agreement, you may still be able to challenge it and reduce your rent to the legal amount.

Remedy:
First, check whether your rent exceeds the rent index (see Remedy above under subleases). Important for you to know: Currently, a Blaczko tenant with a partially commercial lease is suing in court to lower his rent. There are already good indications that this lawsuit will be successful and the result will be announced soon. Then, tenants who were forced to sign a semi-commercial lease should also sue for a determination of the reduction of their rent. So be
sure to contact us to be informed about the outcome of the lawsuit.
4. "Furnished" Apartments
Issue of Concern:
Blaczko Property Management issues partially-furnished leases, with non-existent or outdated furniture. However, they demand a monthly flat-rate furnishing fee for this furniture.
Remedy:
Ask to see receipts or invoices for the furniture. If these cannot be presented by the property management or if the purchase value has already been reached with the monthly lump sum payment, then the furniture is already considered to be "paid off" and therefore, the "furniture payment" is then void. In this case, you may inform them that you will discontinue these payments moving forward.
5. Contract Signing Fees
Issue of Concern:
Blaczko Property Management takes a contract "signing fee" disguised as an administrative fee of 150-180€ from new tenants. This is simply not allowed.
Remedy:
Request an immediate and retroactive refund for your payment payment. If the property management does not agree to pay back the fee, you can deduct the amount from the next rent payment and keep it.
If you've taken action on any of these tips, please let us know about the results!
About us:
We are Blaczko tenants, residents of 25 buildings all over Berlin, who have networked to assert our rights together. We WILL NOT accept the dishonesty of partial commercial rents, overpriced subleases, partially furnished leases (without furniture), camera surveillance or other harassment any longer! We
have already achieved initial successes. In some houses the cameras were dismantled, and progress is being made in others. If you also have problems with your landlord or property management, contact us and let's think about a solution together. Individual tenants may feel defenseless against a landlord, but a determined community can support each other, exchange information and achieve a lot by working together. No one is alone! Join us!
ZuFruehGefreut: Blaczko tenants' bicycle demo
Sunday 31.10.2021 // 4pm // Reuterplatz (Neukölln)
On Halloween the ghosts Blaczko have summoned are coming: We'll organize a colorful bikedemo from Neukölln to Wedding, past the Blaczko residential properties. We demand that they:
Stop the high rents and dubious leases!
Come to the bike demo, dress in festive costume if you'd like, and bring your neighbors with you! We're sticking together!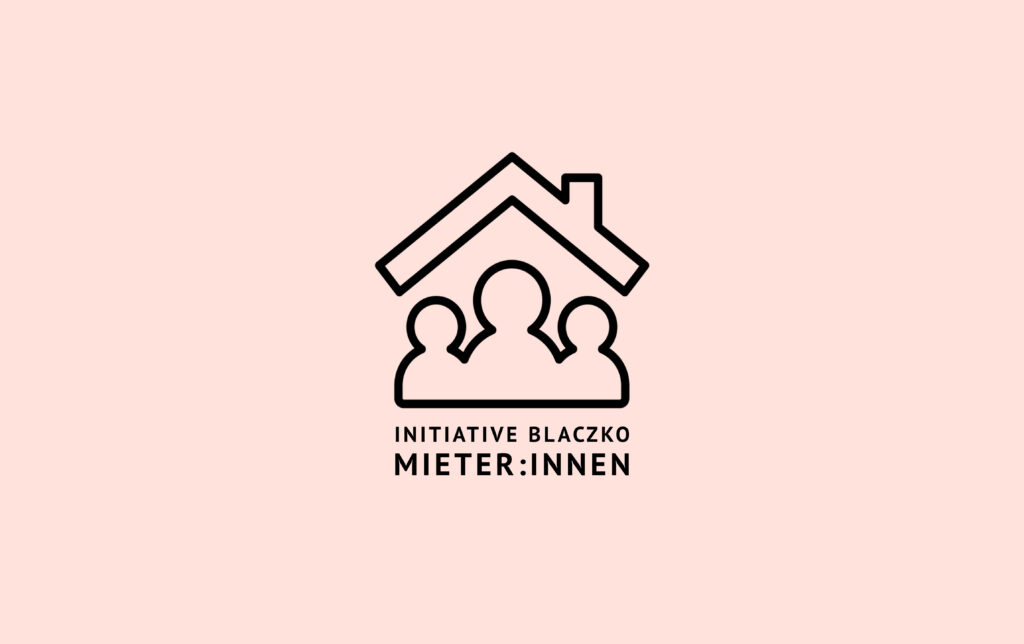 Por ady i wskazówki dla lokatorów Blaczko (pol)
My, Initiative Blaczko-Mieter:innen (Inicjatywa Lokatorów Blaczko), chcielibyśmy podzielić się z Wami przydatnymi informacjami, które zebraliśmy w ciągu ostatnich miesięcy. Nie jesteśmy doradcą prawnym, ale najemcami takimi jak Wy. Nasze wspólne działanie daje nam wiele możliwości dochodzenia naszych interesów. Zaczyna się od poznania naszych praw i wzajemnego wspierania się. Aby uzyskać więcej informacji i wymienić się doświadczeniami, skontaktuj się z nami:
Aktualne informacje: www.twitter.com/mg_berlin
Kontakt: ini.blaczko@gmail.com blaczko@mg-berlin.org
Kamery
Co się dzieje:
Bez wyraźnej zgody WSZYSTKICH lokatorów budynku nie wolno instalować kamer w budynku ani na zewnątrz. Pomimo tego Blaczko używa materiałów zarejestrowanych nielegalnymi kamerami, aby wykorzystać je przeciwko najemcom. Mamy konkretne przesłanki, że zarządca nieruchomości zarejestrował materiał. Jest to bezsprzecznie nielegalne.
Co robić?
Zgłoś się do urzędu ochrony danych (Datenschutzamt). Możesz łatwo i anonimowo wypełnić formularz online urzędu ochrony danych pod adresem: https://kontakt.datenschutz-berlin.de/.
2. Tymczasowy i/lub zbyt drogi podnajem
Co się dzieje
Podobnie jak w przypadku zwykłych umów najmu, umowy podnajmu mogą być zawarte na czas określony tylko pod trzema warunkami: a) planowana rozbiórka domu b) gruntowny remont lub c) planowany użytek osobisty. Powód ograniczenia musi być podany w umowie (pod)najmu. W przeciwnym razie umowa najmu jest uważana za zawartą na czas nieokreślony. Wysokość czynszu przy podnajmie również musi być zgodna ze wskaźnikiem czynszu (Mietspiegel), tak jak w przypadku zwykłego czynszu. Istnieje jednak wiele umów podnajmu w budynkach Blaczko, które są bezprawnie zawarte na czas określony, przekraczają wskaźnik czynszów o nawet 50%, a także zostały zawarte z pracownikami zarządcy nieruchomości Blaczko (Roman Lubert) lub członkami rodziny (Lara Blaczko) jako głównymi najemcami.
Co robić?
Sprawdź, czy Twój czynsz przekracza wskaźnik dopuszczalnych czynszów (Mietspiegel). Najłatwiej to zrobić, korzystając z kalkulatora czynszów udostępnionego przez Senat: https://www.stadtentwicklung.berlin.de/wohnen/mietspiegel/. Jeśli czynsz jest zbyt wysoki, możesz napisać skargę. Stowarzyszenie lokatorów (Mieterverein) lub inny przedstawiciel prawny może Ci w tym pomóc, ale możesz to zrobić również samodzielnie.
W przypadku podnajmowania od pracowników / rodziny Blaczko: Poproś swoich "głównych najemców" o zamianę podnajmu na normalny, nieograniczony czasowo najem. I zapytaj w urzędzie skarbowym (Finanzamt): Jeśli Twój czynsz jest zbyt wysoki, to główny najemca osiąga w ten sposób zysk i musi mieć zarejestrowaną działalność gospodarczą, aby opodatkować ten zysk – około 40% podstawowego czynszu (Kaltmiete) byłoby należne jako podatek. Ta informacja to dobry sposób na wywarcie presji. W przypadku kilku umów podnajmu nastawionych na zysk istnieje ryzyko wysokich zaległości podatkowych i kar za uchylanie się od podatków. Chętnie pomożemy Ci nawiązać kontakt z innymi podnajemcami jeżeli się z nami skontaktujesz.
3. Częściowy wynajem powierzchni komercyjnej
Co się dzieje
Umowy gdzie część lokalu jest traktowana jako powierzchnia komercyjna są sporządzane przez właściciela żeby ominąć prawne ograniczenia czynszów (Mietpreisbremse). "Komercyjna" część powierzchni mieszkalnej zwykle znacznie podnosi całkowity czynsz, tak że przekracza on maksymalny dopuszczony czynsz. Traktowanie przestrzeni mieszkalnej jako przestrzeni komercyjnej jest jednak bardzo wątpliwe z prawnego punktu widzenia i nie powinno być tak po prostu akceptowane. Nawet jeżeli już podpisałeś umowę z częściowym wynajmem powierzchni komercyjnej, istnieją sposoby, aby się przed nią obronić ze skutkiem wstecznym i obniżyć czynsz. 
Co robić?
Sprawdź, czy Twój czynsz przekracza wskaźnik dopuszczalnych czynszów (Mietspiegel). Najłatwiej to zrobić, korzystając z kalkulatora czynszów udostępnionego przez Senat: https://www.stadtentwicklung.berlin.de/wohnen/mietspiegel/. Jeśli czynsz jest zbyt wysoki, możesz napisać skargę. Stowarzyszenie lokatorów (Mieterverein) lub inny przedstawiciel prawny może Ci w tym pomóc, ale możesz to zrobić ró
Ważna informacja w tej sprawie: Jeden z lokatorów Blaczko z umową z częściowym najmem komercyjnym założył sprawę w sądzie o obniżenie czynszu. Wiele wskazuje na to, że ten proces się powiedzie, a jego wynik zostanie wkrótce ogłoszony. Wówczas najemcy, którzy zostali zmuszeni do zawarcia umowy z częściowym najmem komercyjnym, powinni również wystąpić o obniżenie czynszu. Dlatego koniecznie skontaktuj się z nami, aby zostać poinformowanym o wyniku sprawy.
4. Miesięczna opłata ryczałtowa za umeblowanie (Möblierungspauschale)
Co się dzieje:
Zarządca nieruchomości Blaczko wystawia umowy najmu na częściowo umeblowane mieszkania. Meble te albo wcale nie istnieją (podobno były przechowywane) lub są całkowicie przestarzałe. Za te meble żąda jednak miesięcznej opłaty ryczałtowej.
Co robić?
Poproś o pokazanie rachunków za meble. Jeśli zarządca nieruchomości nie może ich przedstawić lub jeśli wartość zakupu została już całkowicie pokryta miesięczną opłatą ryczałtową, meble są uważane za "opłacone". Miesięczna opłata ryczałtowa za umeblowanie przestaje obowiązywać. W takim przypadku poinformuj zarządcę nieruchomości, że nie będziesz już dokonywać dalszych opłat za meble z powyższych powodów.
5. Opłaty za zawarcie umowy

Co się dzieje:
Zarządca nieruchomości Blaczko pobiera opłatę za zawarcie umowy pod postacią opłaty administracyjnej/nakładu pracy w wysokości 150-180 € lub więcej. Taka opłata nie jest prawnie dozwolona.
Co robić?
Możesz zażądać zwrotu tej płatności ze skutkiem wstecznym. Podanie o zwrot płatności nie musi mieć żadnego specjalnego formatu, wystarczy zwykły list. Jeżeli zarządca nie wyrazi zgody na zwrot opłaty, może ona zostać potrącona z kolejnego czynszu.
Oraz: Jeśli wdrożyłeś jedną z tych wskazówek, poinformuj nas o konsekwencjach!
Kim jesteśmy: Jesteśmy lokatorami Blaczko w 25 budynkach w całym Berlinie, którzy połączyli siły, aby wspólnie egzekwować nasze prawa. Nie chcemy już dłużej akceptować częściowego wynajmu powierzchni komercyjnej, zawyżonych cen przy podnajmie, opłaty za meble bez mebli, przymusowego monitoringu i innych form nękania lokatorów! Osiągnęliśmy już nasze pierwsze sukcesy – w niektórych domach zdemontowano kamery a kolejne postępowania trwają. Jeśli również masz problemy z właścicielem lub zarządcą nieruchomości, skontaktuj się z nami i zastanówmy się wspólnie nad rozwiązaniem. Pojedynczy lokatorzy czują się zwykle wystawieni na łaskę właściciela. Zdeterminowana społeczność może się wspierać, wymieniać informacjami i dzięki temu wiele wspólnie osiągnąć. Nie jesteś sam! Dołącz do nas!
#ZuFruehGefreut: Demonstracja rowerowa lokatorów Blaczko
Niedziela 31.10.2021 // 16:00 // Reuterplatz (Neukölln)
W Halloween przychodzą duchy, które Blaczko sam przyzwał. Organizujemy kolorową demonstrację rowerową, która pojedzie z Neukölln na Wedding przejeżdżając obok budynków należących do Blaczko. Od zarządcy nieruchomości domagamy się końca wysokich czynszów i wątpliwych umów najmu! Przyjdź na demonstrację rowerową, jeżeli masz ochotę również w przebraniu, i zabierz ze sobą sąsiadów! Wszyscy mieszkamy dalej!
News
Who is Blaczko property management?
After the Berlin rent cap was overturned and the Blaczko property management reacted with spiteful emails to its tenants, they have organised themselves in 22 known houses. The newly founded "Initiative Blaczko Mieter:innen" (Blaczko Tenants' Initiative) has uncovered many more deficiencies and minor and major injustices, which they are now taking action against with the support of the Berlin Tenants' Union.
The Blaczko tenants' initiative is a network of tenants of Blaczko Hausverwaltung Berlin, which, according to current information, owns and manages 22 apartment buildings in Kreuzberg, Neukölln, Wedding and Wilmersdorf. The networking was triggered by a very rude e-mail from Blaczko to all those tenants who had demanded the rent cap. The email did not begin, as one would normally expect, with a greeting, but with the words "too soon rejoiced". It was a gloating counter to weeks of efforts by the tenants to get Blaczko to comply with the obligation to provide information according to § 6 paragraph 4 of the MietenWoG Bln, which was in force at the time. As if that were not enough expression of their gloating, the emails were garnished with emojis and the request to find a new place to live as soon as possible, quoting "we don't need tenants like that".
We are talking about rents that are on average 50% above the rent index, 16-year graduated increases of up to 5.2%, one-off contract conclusion fees for self-managed property, flat-rate furnishing fees for non-existent furniture, inconsistent operating cost statements and more. Provided you have a master tenancy agreement. From the time the rent cap became known in June 2019, Blaczko got creative and took out part-commercial leases or subleases where the main tenant:s are employees of the property management company or members of the Blaczko family. As a first step, they have sent Blaczko a letter of demand, but so far there has been no response.