Contact: flinta@mg-berlin.org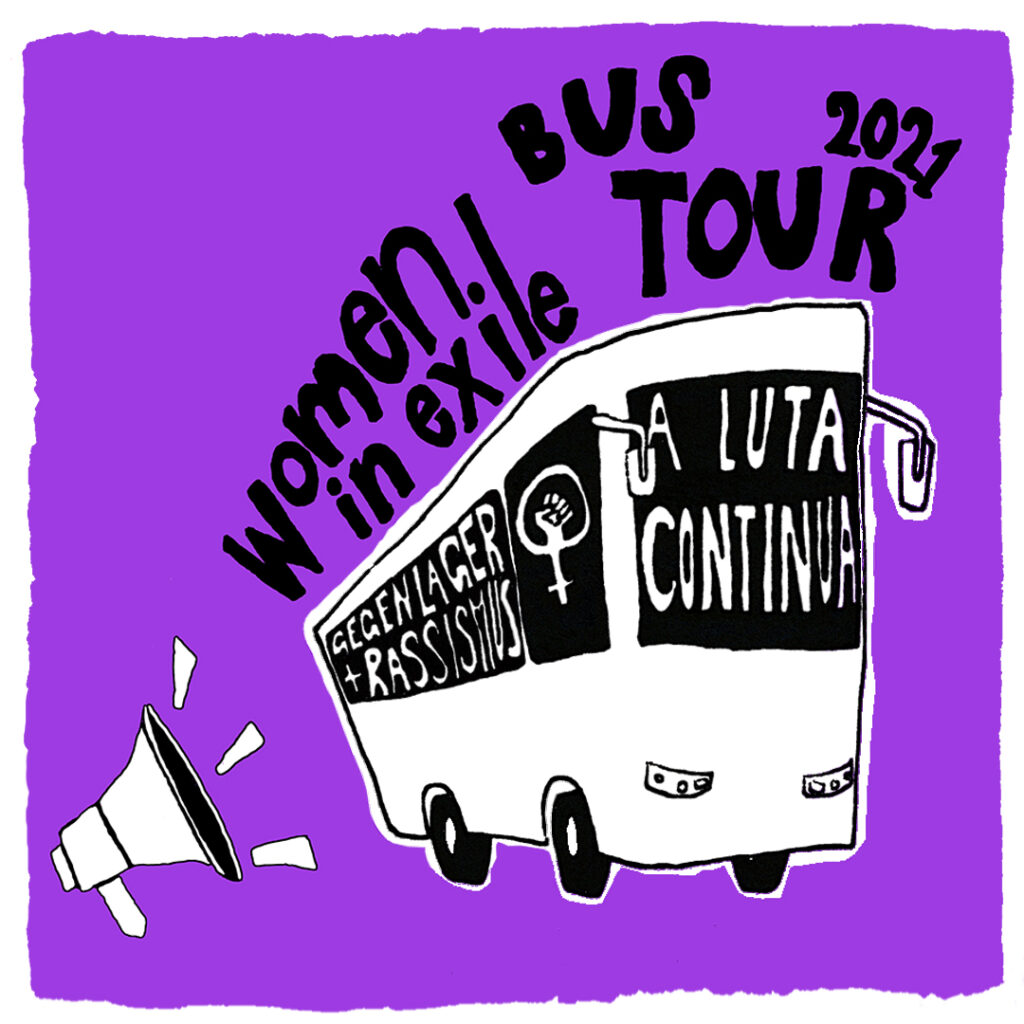 A LUTA CONTINUA! — the struggle continues!
With Women in Exile & Friends against the camp system and racism
La lutte continue ! Avec Women in Exile & Friends contre le système des Lager et le racisme
On 4 August 2021, Women in Exile & Friends will return from their annual summer bus tour, this time to Hamburg, Bremen and Mecklenburg-Vorpommern. We will welcome them with a fête at O-Platz in Kreuzberg from 3pm. We take their return as an opportunity to invite all solidarity groups to build a broad network that works towards securing dignified housing for refugees, against racism, as well as against multiple forms discrimination against FLINTA* (female, lesbian, inter, non binary, trans, agender*) in urban spaces.
Through the bus tour, Women in Exile connect refugee FLINTA*, especially those living in camps. Their goals are to: "empower refugee women to become politically active in order to fight for their rights as women* in this society. We also want to deal with the question of opening political structures for refugee women*. Our main political struggle is against the camp system. We believe that the remote communal shelters act as a catalyst for sexual violence, trauma and depression, leading to (attempted) suicides." On the 04.08 and beyond, we want to actively and sustainedly support these struggles.
At O-Platz, the rally will kick off with a press conference, in which Women in Exile & Friends will report on the bus tour. With music, küfa, workshops and a children's programme from 15.00 to 20.00 we want to create a safer space on this day, where all FLINTA* feel free and comfortable and the FLINTA* from the bus tour and their children can arrive and continue to build their networks. 
O.-Platz is a meeting-place and a point of reference reference for the refugee movement in public space. It is also amemorial site for victims of racism and police violence. Let's gather there again this summer to continue building an intersectional feminist perspective on the human right to dignified and safe housing and the right to the city!
– A LUTA CONTINUA!— the struggle continues!
WHAT: a rally for FLINTA* with music and küfa.
WHEN: on 4 August 2021, 3-8pm
WHERE: Oranienplatz, Berlin-Kreuzberg
Organised by: FLINTA*STADT, mgb, Women in Exile & Friends
Accessibility Information for this rally (EN)
Accessibility directions: You can reach the rally with the M29 bus. The bus stop is "Oranienplatz". If you take the bus in the direction of U-Hermannplatz, get off at the bus stop "Oranienplatz", and walk a few metres diagonally to the right to find us. If you take the M29 in the direction of Grunewald, Roseneck, get off at the bus stop "Oranienplatz". Turn left and walk straight ahead for about 10m until you reach the traffic lights where the "City Toilette" is. Then turn left and walk across Oranienstraße using the traffic lights. On the other side, where you can see the "Wrapublik" stand, turn left again and walk about 10m further. You will find the rally to your right.
Please note: The nearest underground station, Moritzplatz, is not barrier-free for people with walking difficulties, as there is no lift there.
Seating options: At this rally there is the possibility to sit or lie on the ground on blankets. Public park benches are available near our van, and a few chairs are available for people who cannot sit on blankets.
Toilets: There is a barrier-free "City Toilet" opposite the rally. Talk to one of the organisers of the rally. We will provide the (unfortunately) necessary money to use the toilet, and show you the way.
francaise:
A LUTA CONTINUA! Avec Women in Exile & Friends contre le système des Lager et le racisme
Le 4 août 2021, Women in Exile & Friends reviendra de sa tournée estivale annuelle en bus, cette fois à Hambourg, Brême et Mecklemburg-Poméranie occidentale. Nous les accueillons avec une fête à O.-Platz à Kreuzberg dès 15h et profitons de leur retour pour inviter tous les groupes solidaires à la construction d´un large réseau pour un logement digne pour les réfugié·es, contre le racisme, ainsi que contre la discrimination multiple des personnes FLINTA* (femmes, lesbiennes, personnes inter, non-binaires, trans et/ou agenres) dans l'espace urbain.
Women in Exile veut que le Bustour mette en relation les FLINTA* réfugiées, en particulier celles qui vivent dans des Lagers. Ses objectifs sont les suivants : "donner aux femmes réfugiées les moyens de devenir politiquement actives afin de lutter pour leurs droits en tant que femmes* dans cette société. Nous souhaitons également aborder la question de l'ouverture des structures politiques aux femmes réfugiées. Notre lutte politique est principalement dirigée contre le système des camps. Nous pensons que les centres d'hébergement collectifs isolés agissent comme un catalyseur de violences sexuelles, de traumatismes et de dépressions conduisant à des (tentatives de) suicides." Ce sont tous ces combats que nous voulons soutenir vigoureusement et durablement le 4 août et au-delà.
À O-Platz, Women in Exile & Friends feront le bilan de leur tournée en bus lors d'une conférence de presse. Avec de la musique, une Küfa, des ateliers et un programme pour enfants de 15h00 à 20h00, nous voulons également créer un espace sûr ce jour-là, où nous, les FLINTA*, nous sentons libres et à l'aise, et où les FLINTA* de la tournée en bus et leurs enfants trouvent un accueil chaleureux et puissent continuer à renforcer leur réseau.
Oplatz est un lieu de rencontre, une référence pour le mouvement des réfugié·es dans l'espace public, c'est un lieu de mémoire pour les victimes du racisme et de la violence policière. Rassemblons-nous à nouveau à O-Platz cet été, pour continuer à construire une perspective féministe intersectionnelle sur le droit humain à un logement digne et sûr et le droit à la ville !
A LUTA CONTINUA!- la lutte continue !
QUOI : un rassemblement pour FLINTA* avec musique et küfa.
QUAND : le 4 août 2021, de 15h à 20h
OÙ : Oranienplatz, Berlin-Kreuzberg
Organisateur*ices : FLINTA*STADT, mgb, Women in Exile & Friends