Summer this year. A Berlin landlord wants to evict a flat-sharing community on Mehringdamm, it is not really clear why. Their legal situation is very shaky. Eventually they all move out.
But it doesn't stop there. The neighbours and we at MGB get wind of it and soon a tenants' meeting is organised. Because there is more going on at "Uwe Flemming Hausverwaltung". The landlord can only be reached by phone, tenants report repair backlogs and for many of them the rents are much higher than the rent index. Soon more houses of the property management are investigated: There are at least four in Kreuzberg, three in Schöneberg, probably more. A network of tenants is soon established across all the buildings.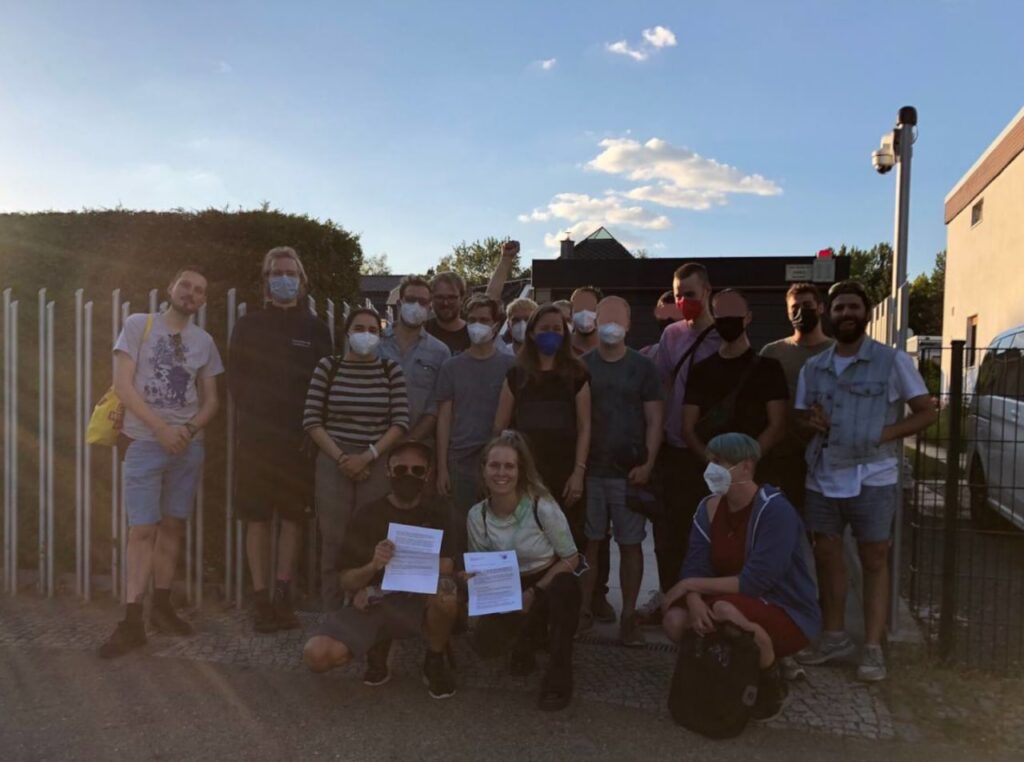 These are the demands of the Flemming tenants to their property management:
refrain from putting pressure on tenants who claim their rights. According to Article 9 of the Constitution, all people are free to unite as tenants.
Adhere to the Mietpreisbremse (rent brake) that caps rents at a maximum of 10 % above the local comparative rent (§ 556d BGB). For graduated rent leases ("Staffelmiete"), the regulations of the rent brake are to be applied to each rent scale (§ 557a BGB). According to § 291 StGB, demanding an extortionate rent is punishable. A landlord is liable to prosecution if he intentionally exploits e.g. a tenant's predicament to demand a rent that is conspicuously disproportionate to the service, i.e. exceeds the local comparative rent by more than 50 %. This is partly the case with the rents you currently charge.
Convert the sublease agreements with employees of your company or family members into regular tenancy agreements.
Provide a contact person or a direct, non-postal, communication channel to report necessary repairs and other concerns. As you sometimes expect us to respond within five days or less, we expect future important documents to be duly postmarked.
carry out all necessary repairs to deal with defects in a timely manner for all tenants . Refrain from using lack of repairs as a threat and from discriminating against tenants who claim their rights. All tenants have the same right to have defects fixed (§ 535 BGB).
stick to the notice period of five working days for general building work and three months for e.g. loft conversions. We also expressly refer here to our right to reduce the rent (§ 536 BGB). Rent reduction is a legal right that the tenant can assert without the landlord's consent. However, the prerequisite is that the landlord is notified of the defect. In principle, the rent reduction is effective from the time the defect occurs and ends when the defect is remedied.
Upon request, disclose the receipts for the utility bills. Tenants have the right to view receipts in order to check their utility bills. There is a suspicion that you deduct vacant flats from the total size of the housing estate in order not to have to pay the costs yourself.
On 16 June, as tenants, we handed over our letter of demand to Flemming. As Flemming did not respond to our attempts to talk to him, we are now pushing through the rent decrease ourselves!
Several tenants have already been able to bring down their rent by several hundred euros a month.
If you are also a tenant of Uwe Flemming Hausverwaltung: Get in touch with us! Together we are stronger.