When we officially founded our association on September 18th 2020, we were determined to take on our first small rent battle. One that wasn't too big for us but that we could grow from. So, we decided to support the Heimstaden tenants from "Osko bleibt" in Wedding. That same evening, the Heimstaden Group made public the probably the biggest property purchase of the year in Berlin, with 130 houses for a purchase price of over 830 million euros. Suddenly, together with other initiatives, we were building a network of 4110 affected tenants which celebrated its first successes at the end of November. But how did things get to this point and what will happen in 2021?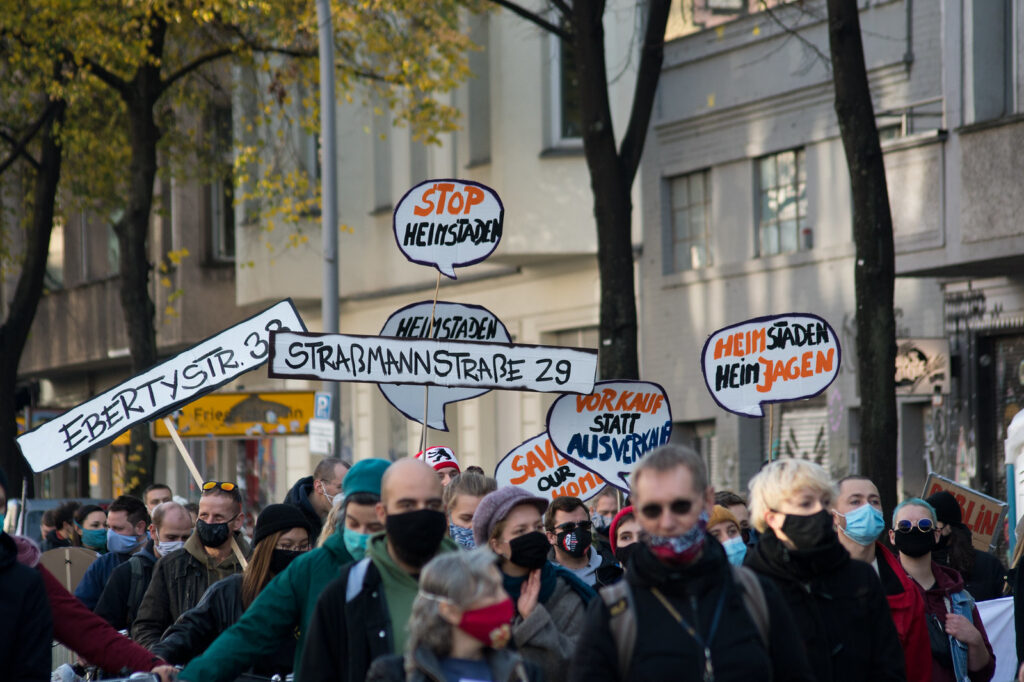 Heimstaden entered the Berlin housing market at the beginning of June already. While we are all struggling with the corona pandemic and its effects on our lives, the group of multi-billionaire Ivar Tollefsen – known for its high-risk business- completed the first wave of house purchases in the north of Berlin. The high purchase price combined with the poor condition of the houses immediately showed that Heimstaden could only make a profit by drastically increasing the rents or selling the rental flats as owner-occupier flats at a high price in the long run. The tenants' alarm bells rang, they networked, organised protests and obtained a right of first refusal for two houses. In mid-September, another deal was announced, first for five houses – which joined together as the "Five Houses Initiative" – and later for 16 houses. Again, the tenants put pressure on the politicians, but only three houses were purchased by the district.
A network is formed in record time
At the end of September, Heimstaden launched a major attack – buying 130 houses for over 830 million euros, meaning that thousands of tenants had to fear for their homes. We quickly networked with different groups and initiatives such as Hände Weg vom Wedding (Hands off Wedding), the Mieterforum Pankow (Pankow Tenants' Forum), Kiezversammlung 44 (Neighbourhood Assembly 44) in Neukölln and the IniForum. Together we started a big flyer campaign in all buildings we knew were affected which were scattered all over Berlin. In this flyer we invited the tenants to the first Berlin-wide network meeting of Heimstaden tenants. We were enthusiastic and full of motivation when, on 21 October, almost 400 tenants came together online to take action against the threat of displacement by Heimstaden. Together we gathered knowledge about the right of first refusal (Vorkaufsrecht), about Milieuschutzgebiete (milieu protection areas) and shared our experiences and concerns. It quickly became clear that nobody wants to become a Heimstaden tenant – so we fought for the right of first refusal of all 130 houses! The following week was dedicated to the house groups: Neighbours met in backyards all over Berlin, shared their fears and encouraged each other. At the same time, we set up working groups: The action group prepared the first rallies and demos, the public relations groups set up channels and the strategy group began to develop a long-term plan for different scenarios. We had to act quickly: due to the tight time frame of the right of first refusal, it was up to our network to put pressure on the politicians and find buyers for the houses by 23rd of November. In order to better coordinate all this, we organised ourselves into local groups in addition to the weekly Berlin-wide meetings. This way, the weeks went by in a frenzy, while we as a union learned more in one month than we had learned in a whole year. We were immediately in the middle of it. The result of networking was great: everywhere in the city there were suddenly banners or red sheets hanging from the windows, tenants produced their own songs against homelessness, there were neighbourhood demonstrations and lantern parades in every district. Finally, on November 8th, we took to the streets with over 500 tenants. A strong network had been built up in record time.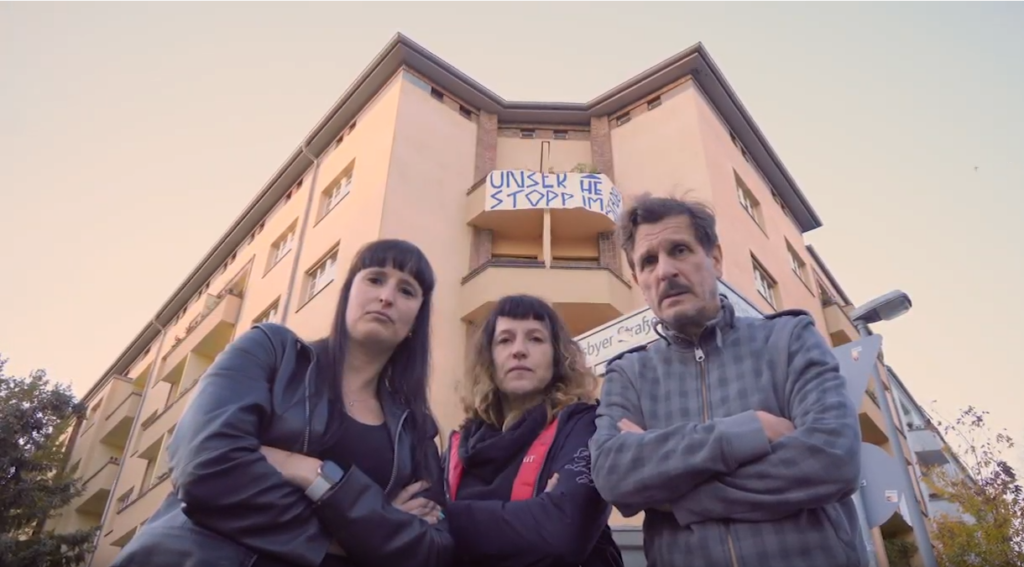 Senate and district politics: a delusion
At the same time, the limits of parliamentary politics became apparent. Behind our backs, the senate had started to negotiate with Heimstaden about an averting agreement. On the one hand, our pressure showed first results: unlike the previous housing purchases, this time Heimstaden felt compelled to sit down at the negotiation table. On the other hand, the negotiations remained non-transparent, even though they concerned us tenants of the city. These are procedures that we as a tenant's union want to break. We don't want politicians to negotiate on our behalf in order to sell us bad compromises afterwards, but to defend and assert our interests in the houses we live in ourselves directly against the investors. Yet in the end, these negotiations ended with the expected results: While a week earlier it had been said that the Senate would negotiate a cooperation agreement for all houses outside the milieu protection in addition to an averting agreement, on November 23rd, the solution finally proposed was extremely unsatisfactory for the tenants. Heimstaden signed an agreement to avert the sale of about 80 houses in the Milieuschutz area, which meant that not a single house could be pre-purchased, and that more than 70 other houses remained completely unprotected. At the same time, it is still completely non-transparent what this agreement looks like. Tenants had to press for information via "Frag den Staat" (Ask the State) for an insight, while no information came from politicians.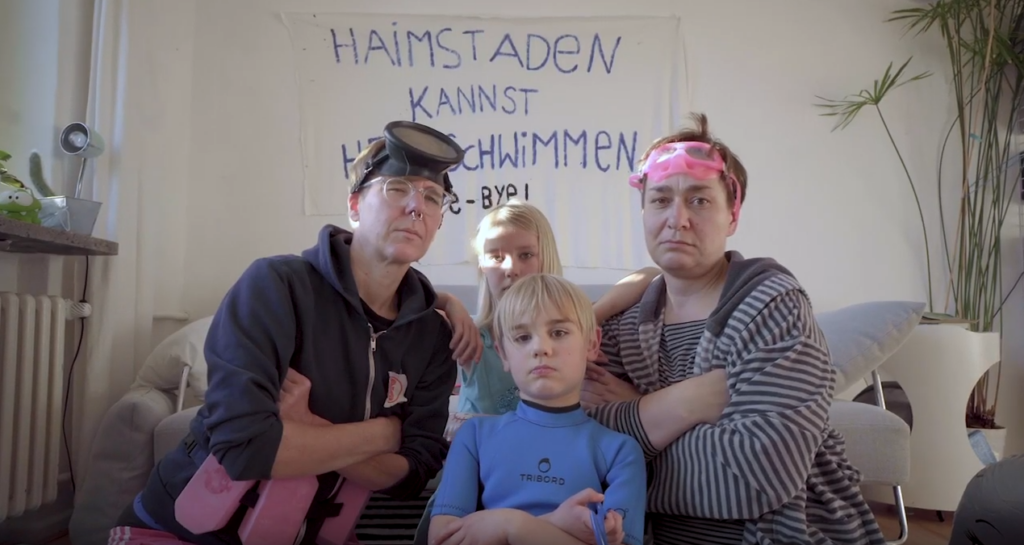 Only we can save ourselves!
Thus, the first phase of our struggle against Heimstaden ended with a first small success – Heimstaden had to move under our pressure – as well as with a disappointment with the policies of re-red-green government coalition. However, we had already made long-term plans: After a lengthy process, the future Heimstaden tenants came together in November and presented four demands to the Norwegian billionaire's company:
1. a complete ban on conversion into owner-occupied flats
2. A say in all decisions concerning the buildings through a tenants' councils
3. A long-term rent freeze beyond the period of the rent cap
4. Immediate re-letting of vacant flats
One week after the end of period in which the right of first refusal could be used, we finally handed it over to Heimstaden's press officer Bernd Arts (who has since been dismissed) and manager Caroline Oelmann. At the same time, we invited Heimstaden to a first meeting and demanded a statement from the company by December 10th. Instead, the day before said deadling, we received a refusal to enter into a dialogue – Heimstaden was not (yet) prepared to respond to our demands.
In 2021 we will therefore have to keep up the pressure. As long as the tenants are not properly protected from the practices of Heimstaden, they will continue to fear for their homes. Our goal is to reach a legal agreement – similar to a collective agreement – between the tenants and Heimstaden. A contract that guarantees what should be self-evident: a life without fear of displacement and a say in everything that concerns our home.
The city belongs to us!